Stuffed Chicken Breast With Frisee Salad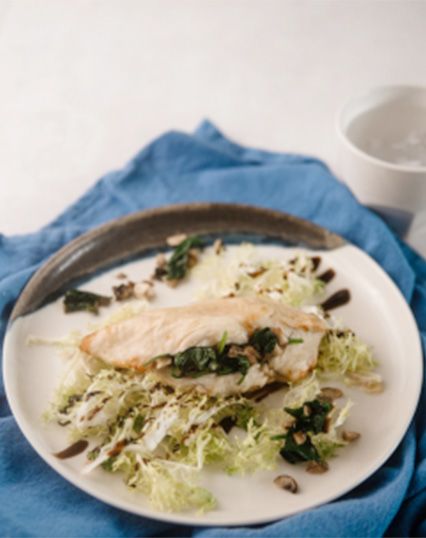 Ingredients:
2 tsp olive oil, divided
1 ½ cups spinach, chopped
½ cup cremini mushrooms, chopped
¼ tsp salt, divided
1 clove garlic, peeled and chopped
¼ tsp apple cider vinegar
1 portion chicken breast, cut in half widthwise keeping it intact on one side
1 cup frisée, washed and torn into bite-sized pieces
1 tbsp IP balsamic dressing
Instructions
In a non-stick skillet over medium heat, add in 1 tsp olive oil. Add spinach, mushrooms and garlic and sauté for 7-10 minutes or until most of the moisture is gone. Put mixture into a bowl. Toss with apple cider vinegar and half of the salt. Refrigerate for 2 minutes to cool it slightly.
Preheat air fryer to 350°F. Brush the outside of the chicken breast with remaining oil and season with remaining salt. Put mixture inside of the slit of the chicken breast and secure the edges to close with kitchen twine or toothpicks. Place stuffed breast(s) in air fryer for 10 minutes. Carefully flip breast and cook for another 7-10 minutes or until cooked through. The center should reach 165°F on a meat thermometer. Serve alongside a frisée that has IP balsamic dressing on top, and enjoy!

Dr. Laub is amazing! I started going to her because of chronic, daily headaches I had for years. It took a few weeks (I was a mess!) of weekly appointments but they're gone!!! I've continued seeing her regularly for back and neck issues. She is incredibly thorough and extremely knowledgeable. She really gets to the root of a problem and gets you up and going. Highly recommend!!
Lisa S.

Dr. Silke is amazing! She is equal parts talented and thoughtful, and she provides collaborative care unlike any experience I've had with a doctor. I came to her with devastating foot pain—I was shopping for a wheelchair. Silke worked on my feet and came to understand the complex source of my injury, which not one of many, many doctors had identified. AND SHE FIXED IT. My feet are significantly improved, something I had long felt hopeless about. I could not recommend Roland Park Chiropractic more emphatically.
Alex S.

I'm so happy to have found Roland Park chiropractic, Dr Silka Laub! She is so thorough and spends a lot of time with you, which I've never experienced that with a chiropractor. I came in with shooting pains down my legs and they disappeared after her treatment. I like that she includes soft tissue work and cranial sacral with her adjustments so they have more chance of staying that way!
Robyn J.