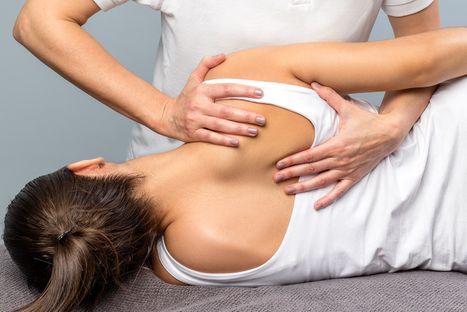 Chiropractic is a health care profession that focuses on disorders of the musculoskeletal system and the nervous system, and the effects of these disorders on general health.
Chiropractic care is used most often to address neuromusculoskeletal complaints, including but not limited to back pain, neck pain, pain in the joints of the arms or legs, and headaches. Chiropractors have broad diagnostic skills and are also trained to recommend therapeutic and rehabilitative exercises, as well as to provide nutritional, dietary and lifestyle counseling. They may assess patients through clinical examination, laboratory testing, diagnostic imaging and other diagnostic tests to determine when chiropractic treatment is appropriate or when it is not appropriate. Chiropractors will readily refer patients to the appropriate health care provider when chiropractic care is not suitable for the patient's condition, or the condition warrants co-management in conjunction with other members of the health care team.
The most common therapeutic procedure performed by doctors of chiropractic is known as "spinal manipulation," also called "chiropractic adjustment." The purpose of manipulation is to restore joint mobility by manually applying a controlled force into joints that have become hypomobile – or restricted in their movement – as a result of a tissue injury. Manipulation, or adjustment of the affected joint and tissues, restores mobility, thereby alleviating pain and muscle tightness, and allowing tissues to heal.
In addition to chiropractic manipulation, Dr. Laub provides prenatal and postpartum care, pediatric chiropractic, instrument assisted myofascial release techniques, athletic and functional taping, craniosacral therapy and nutritional counseling.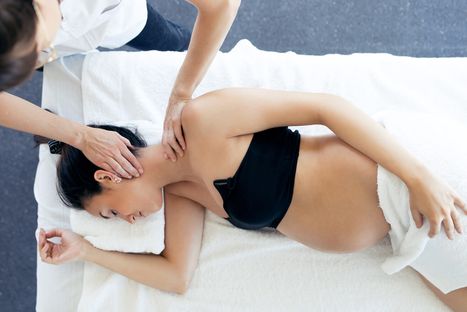 Chiropractic Care During Pregnancy
During pregnancy a woman's body encounters many changes in preparation for the developing baby. The quickly growing and protruding abdomen and changes in hormones put a lot of stress on the spinal and pelvic areas, causing misalignments and therefore discomfort or pain. Chiropractic adjustments correct misalignments in the spine and joint dysfunctions that disrupt the proper performance of the nervous system.
The Webster Technique is one of the most effective techniques to achieve this goal. The aim of the Webster Technique is to decrease the effects of misalignments in the sacrum and pelvis through a specific chiropractic analysis and adjustment, in order to improve neuro-biomechanical functioning to the sacral-pelvic region.
Restoring this neuro-biomechanical functioning may affect the baby's spinal and nervous system development, improve the baby's positioning and birth outcome, prevent difficult labor (dystocia), help controlling symptoms of nausea, and relieve general aches and pains in the sacrum and pelvis. In other words, the goals of chiropractic prenatal care are to improve the mother's birthing experience, a healthier pregnancy, and the healthiest beginning for the baby. There are no contraindications to chiropractic care throughout pregnancy.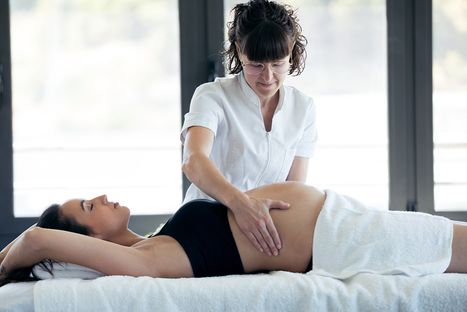 Chiropractic and Breech Deliveries
Approximately 4% of all pregnancies result in a breech presentation. The chiropractor's role in breech presentation is to balance the pelvis and corresponding muscles and ligaments to remove the constraint to the patient's pelvic area. Once this is achieved, the fetus often assumes the correct presenting position. At no time does the chiropractor attempt to change the position of the fetus, as is done with external cephalic version by your birth provider; the chiropractor only attempts to correct a potential cause for the malposition of the baby. The Journal of Manipulative and Physiological Therapeutics reported an 82% success rate of babies turning vertex when doctors of chiropractic used the Webster Technique.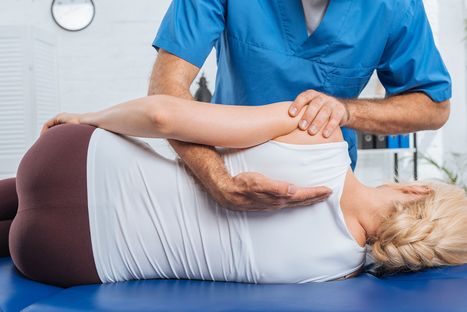 Cox Technique
The Cox Technique is a form of physical therapy developed by Dr. James M. Cox in the 1980s. It is a manual therapy technique that is used to treat a variety of musculoskeletal injuries, including back and neck pain, shoulder injuries, headaches, and more. The Cox Technique is based on the concept of spinal manipulation and is designed to help restore normal function and alignment to the spine.
The Cox Technique utilizes a special "thrust" to mobilize a joint, which increases the range of motion and reduces pain. It is a safe, gentle and effective method of treating musculoskeletal problems. The thrust applied is much less forceful than the thrusts used in traditional chiropractic adjustments. This technique can be used to reduce pain, improve range of motion, and increase flexibility. It is also used to treat joint problems, such as arthritis, and to reduce swelling and inflammation. Ask one of our chiropractors today!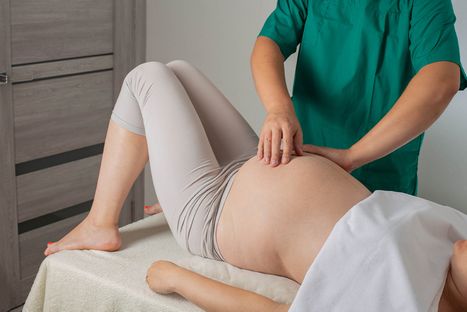 Webster Technique
The Webster Technique is a chiropractic technique used to restore proper functioning of the pelvic and sacral area of the body. It is used to assess and correct misalignments in the pelvis, which can lead to problems with the nervous system, the musculoskeletal system, and reproductive health. The technique was developed by Dr. Larry Webster, a chiropractor, who discovered that misalignments in the pelvis can cause many different issues.
The Webster Technique involves applying gentle pressure to the pelvis, which helps to restore the alignment and balance of the pelvic and sacral area. This can help to reduce or eliminate pain, improve nerve function, and improve reproductive health. The technique can also help to improve the overall health of the body, as an imbalance in the pelvis can cause a wide range of health problems.

Dr. Laub is amazing! I started going to her because of chronic, daily headaches I had for years. It took a few weeks (I was a mess!) of weekly appointments but they're gone!!! I've continued seeing her regularly for back and neck issues. She is incredibly thorough and extremely knowledgeable. She really gets to the root of a problem and gets you up and going. Highly recommend!!
Lisa S.

Dr. Silke is amazing! She is equal parts talented and thoughtful, and she provides collaborative care unlike any experience I've had with a doctor. I came to her with devastating foot pain—I was shopping for a wheelchair. Silke worked on my feet and came to understand the complex source of my injury, which not one of many, many doctors had identified. AND SHE FIXED IT. My feet are significantly improved, something I had long felt hopeless about. I could not recommend Roland Park Chiropractic more emphatically.
Alex S.

I'm so happy to have found Roland Park chiropractic, Dr Silka Laub! She is so thorough and spends a lot of time with you, which I've never experienced that with a chiropractor. I came in with shooting pains down my legs and they disappeared after her treatment. I like that she includes soft tissue work and cranial sacral with her adjustments so they have more chance of staying that way!
Robyn J.